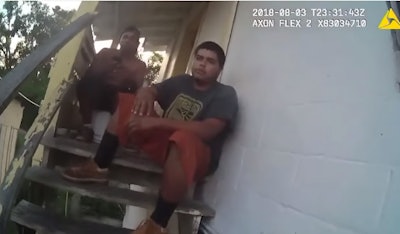 VIDEO: Florida Deputy Fatally Shoots Subject Who Grabbed His TASER
A deputy with the Volusia County (FL) Sheriff's Office responding to a domestic violence call in Seville on Friday evening shot and killed a suspect who grabbed the deputy's TASER during a struggle, according to a written statement issued by the agency.
The deputy was responding to a report of an ongoing domestic disturbance between the suspect and his girlfriend, according to the VCSO statement.
The deputy spoke with the suspect and a friend on an outdoor stairway. Both were uncooperative, according to VCSO.
"Eventually, when the suspect's girlfriend came out and spoke to the deputy, the suspect grabbed her and engaged in a struggle with her at the top of the stairs," the statement said.
The deputy intervened in the struggle, deploying his TASER on the suspect and instructing him to put his arms behind his back. The suspect refused and struggled with the deputy for several minutes. During the struggle, the suspect grabbed the deputy's TASER, and the TASER was discharged.
The deputy fired multiple shots at the suspect. The deputy's body camera captured footage of the entire incident.
The 29-year-old man — identified as Emmanuel Alquisiras — was pronounced dead at the scene.
The Florida Department of Law Enforcement responded to conduct an investigation, and the deputy was placed on administrative leave, which is standard.