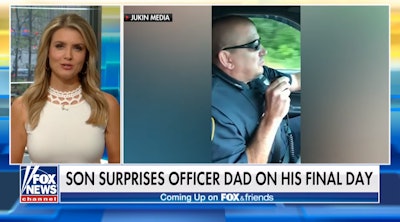 VIDEO: Retiring Massachusetts Officer Surprised by Son on Final Radio Call
Officer Duane Ledoux — who served with the Southbridge (MA) Police Department for more than 30 years — became emotional when the final radio call announcing his retirement was delivered by his own son.
Ledoux's son Nate had flown across the country to send his father off, according to Fox News.
"It is my sincere pleasure to announce that ... after 32-and-a-half years of service, my father, Southbridge Police Officer Duane Ledoux, is retiring and has given his final code five," the younger Ledoux said.
"It is my honor to acknowledge this code five, to set free a man who has sacrificed so much of his time for all of us, so that he may spend the rest of his life discovering new craft beer, exploring this beautiful country and, most important of all, chasing glory. Officer Ledoux, badge number 1041, dad, you are officially code five."
Officer Ledoux shook his head in disbelief and said, "Love you."
Fighting back tears, Officer Ledoux said, "He came home."