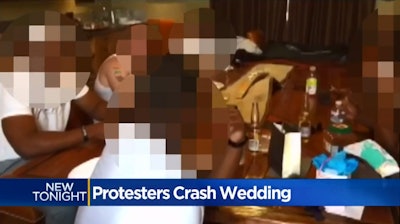 VIDEO: BLM Protesters "Crash" Wedding of Officer Linked to Stephon Clark Shooting
Despite the fact that Sacramento police have not released the names of the two officers who opened fire on Stephon Clark in March, one of the two officers who were reportedly in that fatal shooting was confronted by Black Lives Matter protesters on his wedding day, according to CBS Sacramento.
A group of protesters had apparently found out about the wedding from online research, locating the officer's wedding website, which revealed the date and location of the event.
"I think they need to be approached in spaces where they're a little more vulnerable," Sacramento BLM founder Tanya Faison told CBS News.
According to the video released by Black Lives Matter, the officer was gathered in a room with his groomsmen Saturday when protesters barged in.
Sacramento police say that both officers have received death threats "and are not working in a patrol capacity," said CBS News.