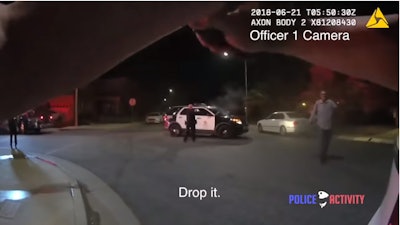 VIDEO: LAPD Release Body Cam Footage of Officers Shooting Knife Wielding Man
A man suspected of stabbing his wife withstood beanbag rounds, a TASER deployment, and numerous gunshots but kept coming at officers, according to body camera footage released by the Los Angeles Police Department (LAPD).
The June incident began when police received a 911 call from a woman who reported the stabbing, saying that the victim's intestines were hanging out of her body, according to LAPD.
Officers arrived and confronted 53-year-old Alen Alpanian — who was reportedly armed with a 12-inch knife — in front of his house. Alpanian refused officers' commands and began to walk toward officers while brandishing the knife.
Officers shot Alpanian with beanbag rounds but they had little effect as Alpanian kept approaching the officers. Officers then deployed a TASER, but it too, had no effect.
Alpanian got within 10 feet of officers and an officer opened fire. Despite being struck several times, the armed man continued forward before finally falling to the ground.
The suspect survived his injuries, and was hospitalized. His bail has been set at $1.2 million.