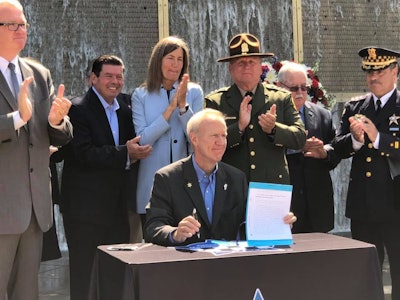 Illinois Governor Bruce Rauner signed a bill on Monday to create a new Illinois Lottery scratch-off game with the proceeds "funding police memorials, support for the families of officers killed or severely injured in the line of duty, and protective vest replacements for officers, according to The Southern Illinoisan.
"Our police officers stand in the face of danger every day to keep us safe," Rauner said in a written statement. "We are proud to stand with them and support their families when they are faced with a devastating loss. This new ticket will help fund scholarships for their children and honor their bravery at memorial parks across the state."
House Republican Leader Jim Durkin — who had pushed hard for passage of the legislation — said in the news release, "Our police officers wake up every day and put their lives on the line to ensure the safety and security of their citizens and communities. It is our duty to help them and their families when they are catastrophically hurt protecting Illinoisans, and this legislation ensures more money will be available without relying on additional state funding."
Moneys received from the scratch-off game shall be divided equally for distribution into the Chicago Police Memorial Foundation Fund, the Police Memorial Committee Fund, and the Illinois State Police Memorial Fund, the bill states.
The funds will be used to build and maintain police memorials and parks, hold annual memorial commemorations, give scholarships to children of officers killed or severely injured in the line of duty, provide financial assistance to police officers and their families when a police officer is killed or injured in the line of duty, and provide financial assistance to officers to purchase or replace protective equipment.