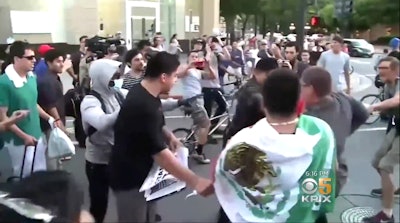 VIDEO: Judges Rule Trump Supporters Attacked in San Jose Can Sue Police
A group of Trump supporters who were caught in an angry crowd during a 2016 protest in San Jose, CA, can sue the police department, a panel of judges ruled Friday.
A three-judge panel with Ninth Circuit Court of Appeals agreed with Trump supporter Juan Hernandez, the lead plaintiff in a federal lawsuit against the San Jose Police Department.
"San Jose PD led us right into the protesters," said Hernandez. "Someone needs to be held accountable for what happened. So, it's awesome — a huge step — to know that they will be held accountable for the lack of planning and the stand-down order that they received."
The lawsuit claims San Jose police funneled Trump supporters leaving a June 2016 rally right into the middle of a crowd of counter-protesters, who quickly surrounded and attacked them.
San Jose is expected to appeal the ruling.