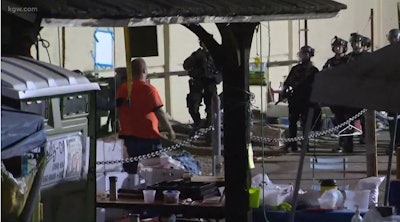 VIDEO: Portland Police Clear Out Anti-ICE Protest Camp
Portland Police moved in at 4:30 Wednesday morning to clear out an anti-ICE protest camp that city officials said had become a nuisance.
Officers in crowd control gear moved in to clear out the Occupy ICE PDX camp after an announcement on social media, and at the site via bullhorns, that any remaining protesters must leave.
"People ask, 'well, why did it take so long?' Actually, I think the timing was very good on this. The whole point was to keep the situation contained to make sure it's deescalated (and) prevent a riot-type scenario," said Portland Mayor Ted Wheeler.
Police spokesman Sgt. Chris Burley told KGW that police moved "slowly and methodically" through the encampment, with no one injured or arrested.
Portland Police Bureau Chief Danielle Outlaw said that last week she and her command staff determined that conditions at the occupation had deteriorated to the point where health and fire safety issues were a cause of concern.