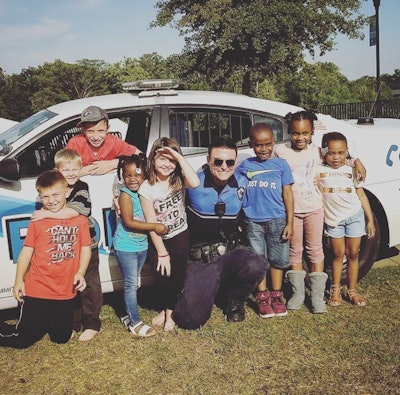 An Albany, GA, police officer has been nominated for July HAIX Hero of the Month honors for his work in the community.
Ptl. Travis Goodson has served Albany for nearly four years and his service has gone far beyond the standard duties of a law enforcement officer.
Goodson's supervisor nominated him for HAIX Hero of the Month. In the nomination he wrote: "Ptl. Travis Goodson is very passionate about the City of Albany becoming one community." Toward that end, Goodson has organized and coordinated a number of community initiatives. For example, Goodson led dozens of citizen volunteers who painted the shutters on the McIntosh Homes housing area, cleaned up the grounds, and cooked food. Goodson also started a #HUGACOP campaign that went viral. His supervisor says Goodson is currently planning another community day cleanup involving a local high school and a "child safety seat education event for low income mothers."
To vote for Ptl. Goodson as HAIX Hero of the Month, give him a "like" on the POLICE Magazine Facebook page.
One more law enforcement officer will be nominated in July for HAIX Hero of the Month. The winner will be the officer receiving the most "likes." The winner will be named on the final Monday of July and will receive a pair of boots from HAIX.
Do you know of a deserving law enforcement hero? Nominate them today for HAIX Hero of the Month! Submit their nomination HERE.