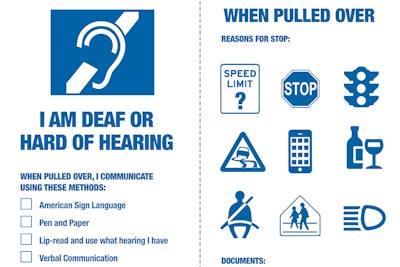 The NYPD has announced plans to mail out "visor cards" to roughly 11,000 drivers who are deaf or hard of hearing in order to more easily communicate with their officers.
"One side of the card identifies the driver's disability, while the other side depicts a list of symbols, including a broken taillight, a wine bottle, a phone to indicate texting and a seat belt that the officer can point to explain the reason for the stop," according to the New York Post.
"The visor cards aren't just tools for persons who are deaf or hard of hearing behind the wheel, they are also a helpful tool for the NYPD officers who work each and every day to keep the public safe," said Police Commissioner James P. O'Neill in a written statement. "Improving communication is a cornerstone of neighborhood policing. These cards will help in that endeavor."
Similar cards are distributed in places such as Minnesota and Delaware.