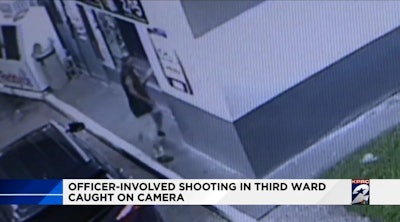 VIDEO: Texas Officer Shoots Gun from Suspect's Hand"
An officer with the Houston (TX) Police Department is either incredibly lucky, or incredibly good. Surveillance camera footage shows the officer shooting at an armed man at a gas station convenience store on Saturday night—the gun then flies from the suspect's hand.
According to Click2Houston.com, the video shows the suspect displaying the weapon before walking toward the front door of the store. It is unclear whether the officer intended to hit the weapon.
The suspect—identified as 26-year-old Leanda Jaroy Davis—now faces a charge of making a terroristic threat.