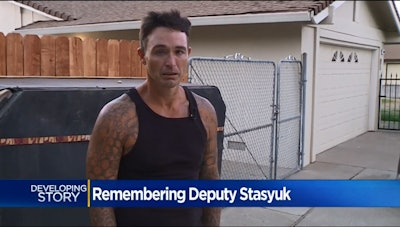 VIDEO: Homeless Man Mourns Deputy Who Arrested, then Cared for him"
Among the many people mourning the death of Sacramento County Sheriff's deputy Mark Stasyuk is a convicted felon—now homeless—who was arrested by Stasyuk.
Josh Nordquist told the CBS News affiliate in Sacramento, "The dude had a real heart. He was an awesome man."
"It breaks my heart," Nordquist said. "I'd die for his family. I had heard a little while ago he just got married it's just so sad."
Suspect Anton Moore—also known as Anton Paris—reportedly opened fire on deputies as they responded to a disturbance call at an auto parts store on Monday, fatally striking Stasyuk.