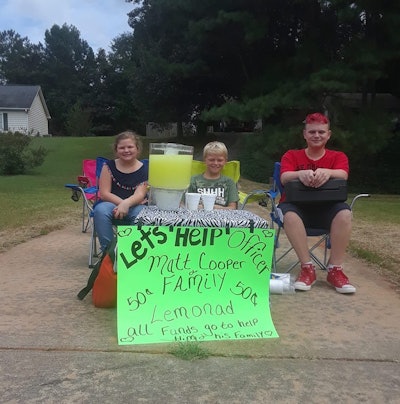 When several children living in Covington, GA, heard that one of the officers with their department had suffered a severe wound when he was shot, they wanted to do something for him and his family.
So they banded together and opened up a lemonade stand, according to NBC News.
Officer Matt Cooper was reportedly shot in the head Monday by a 21-year-old shoplifting suspect who led Cooper and other officers on a foot pursuit.
Cooper was flown by helicopter to a nearby hospital, where he successfully underwent surgery Wednesday to relieve swelling on his brain, reports Fox 5 Atlanta.
The kids sold 50-cent lemonade beginning earlier this week, raising $80 on Tuesday alone, according to the report.
Shena Chambers, the mother of one of the children, told POLICE Magazine, "Our kids wanted to give back and help the officer and his family through the hard time they are going through... they are wanting to keep going after this week with different things to sell to raise money for his family. We encourage all children to figure out a way to help their communities as well!"
The kids plan on keeping the lemonade stand open, with operating hours beginning when school lets out in the mid-afternoon.