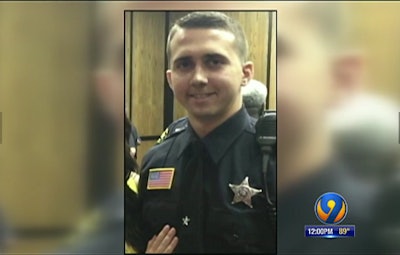 VIDEO: North Carolina Deputy Shot, Suspect in Custody
A Cleveland County, NC, sheriff's deputy was shot in the face Tuesday night responding to a call about a man wanted on numerous probation and parole violations, authorities say. A suspect is in custody.
Deputy Tim Sims was airlifted to a hospital where he is recovering.
Authorities say Sims was shot when he responded to a call about Dakota Gage Greene. Cleveland County Sheriff Alan Norman said during a confrontation, Greene pulled a handgun from his waistband and shot Sims in the face and thigh.
Investigators were able to use the deputy's dashcam video to identify Greene, whom they arrested a few hours later more than 50 miles away in Harrisburg, WSOC reports.
Greene was charged with first-degree attempted murder and possession of a firearm by a convicted felon. He made his first appearance on Wednesday morning and had his bond set at $2 million.
Sims' wife is pregnant with twins. Norman said his deputy faces a long road to recovery.