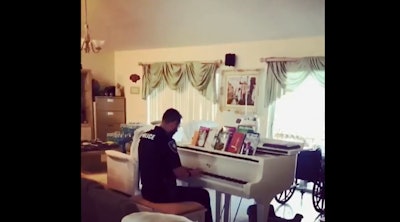 VIDEO: Florida Officer Plays Piano to Comfort Distraught Family"
After an elderly man fell and injured himself last month police officers and firefighters in Pembroke Pines, FL, responded to render aid. One officer spotted a piano and proceeded to play "Don't Stop Believin'" by Journey to comfort the family.
A firefighter recorded video of the act of kindness, and the police department subsequently posted that to their Facebook page.
The officer—identified in the post only by the last name of Hernandez—told WPLG-TV News that he's been playing piano since the age of six, and that this was not the first time he used that skill to bring a smile to someone in distress.
"I have done it a few times. It usually cheers people up," Hernandez said.