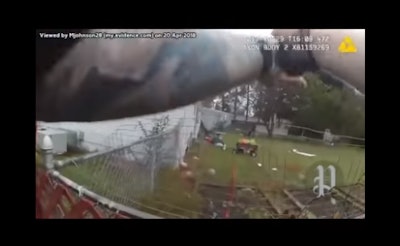 VIDEO: Body Camera Video Released of Non-Fatal OIS in Virginia
The Virginia Pilot reports that Officer Jeremy Durocher of the Portsmouth (VA) Police Department has been charged with aggravated malicious wounding—and a related firearms charge—for an officer-involved shooting that occurred in October 2017.
If convicted, Durocher faces up to life in prison plus three years. The aggravated malicious wounding charge carries a minimum of 20 years in prison, though a judge could suspend part of the term.
Officer Durocher reportedly believed that the subject—who fled police on foot after reportedly committing a burglary—had a gun in his possession at the time of the shooting.
Body camera footage reveals that Durocher repeatedly shouted to other responding officers, "He has a gun! He has a gun!" before shooting Ward.
Durocher's attorney, Nicholas Renninger, said the decision to file charges against his client would have a "chilling effect" on police officers in Portsmouth and across the country.
"No police officer can go to work now without looking over their shoulder worried they will be charged simply for doing their job," Renninger said.
Ward pleaded guilty in June to breaking into the home, stealing some jewelry and illegally possessing a firearm.