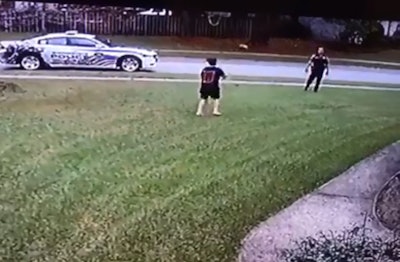 A 10-year-old boy was tossing a football to himself when an officer with the Summerville (SC) Police Department stopped his patrol vehicle and asked him if he had anyone to play with.
The boy reportedly said, "No sir."
So the officer took some time to toss the ball with the boy.
The entire event was caught on the surveillance camera mounted to the front of the boy's house.
The boy's mother—Sarah Prusinski-Petrovski—said that she was inside and unaware of the officer's kind gesture until her son came inside and told her about it. She went to her surveillance camera and saw the heartwarming act done by Field Training Officer Tommy Bilancione, according to Yahoo News.
Prusinski-Petrovski decided to check the surveillance footage and send it to the department to express her gratitude after seeing her son "grinning from ear to ear."
The department then posted the video to its Facebook page, where it has been seen by more than 110,000 people.