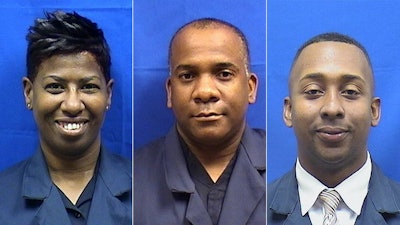 Three Miami police officers were busted on an array of federal public corruption charges on Tuesday — from distributing dozens of kilos of cocaine to protecting drug dealers.
Investigators said one officer sold a police uniform and badge to an undercover detective for $1,500, despite being told the official gear would be used by a cartel hit-man.
The arrests were announced at a Tuesday afternoon gathering in downtown Miami attended by the U.S. Attorney's Office, the FBI, Miami police brass and Miami Mayor Francis Suarez, the Miami Herald reports.
"The officers cast away their duties to serve and protect," said U.S. Attorney Ariana Fajardo Orshan, who took charge of the Miami office in August.
Arrested were Miami police veterans Schonton Harris and Kelvin Harris and James Archibald, a more recent addition to the City of Miami Police Department. Schonton Harris, who investigators say recruited the other two men, joined the department 20 years ago.
A fourth officer who has co-operated with law enforcement and who hasn't been named, is expected to be charged at a later date.