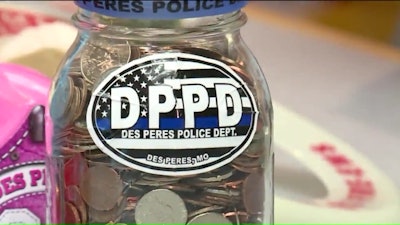 When Veronica Zarfas—mother of eight-year-old Liam and 12-year-old Isabella—entered her Des Peres, MO, home, she discovered that she had been burglarized.
The worst part, according to WDAF-TV, was the thieves made off with her kids' "chore jar" containing loose change they received in compensation for performing odd jobs around the house.
The kids were understandably upset at their loss. So too, was Des Peres Department of Public Safety Detective Trent Koppel.
So Koppel asked members of the department to help fill two new tip jars—every single member of the department made a contribution.
A few days later, Koppel was joined by members of the police and fire departments outside the Zarfas home. Koppel presented the jars to the kids, along with some small gifts.
Detective Koppel told POLICE Magazine via Facebook "chat" that eight officers were present at the time of the presentation.
"We are a department of 53 most of which have children at home no different from these," Koppel said. "Each person in the department provided something to the cause as it was important to make sure the family knew that each of us were equally invested in this case and wanted to make it right."
Koppel added, "We operate under a Community Involved Public Safety platform and without each other no one succeeds. So to us this family was merely an extension of our own and we needed to make sure they knew we were there no matter what."
Mrs. Zarfas told the local news station that she was overwhelmed by the thoughtfulness of the department.