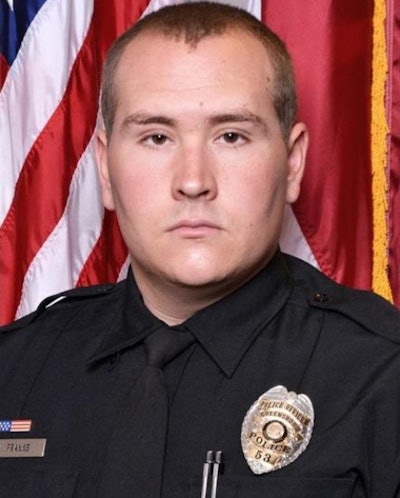 A Greensboro, NC, police officer died Saturday night in an on-duty crash while pursuing a robbery suspect.
Officer Jared William Franks, 24, died when his car collided with another police car responding to a robbery call. Franks' vehicle struck the other police car at an intersection and was sent careening through a nearby yard and into a house. The house was occupied at the time, but no one inside was hurt, reports the News & Record.
Franks and another officer were taken to the hospital, where Franks died from his injuries. The second officer did not have life-threatening injuries, reports WFMY.
Greensboro police chief Wayne Scott says Franks is the first Greensboro officer to die on duty in 17 years. Franks was assigned to the District Two Patrol Division and joined Greensboro PD in June of 2016.
Franks came from what Scott called a "family" of law enforcement officers, many of whom have worked for Greensboro police. He joined the department in June 2016. He wasn't married and didn't have any children, according to the News & Record.
The actual crime Franks responded to is still under investigation.