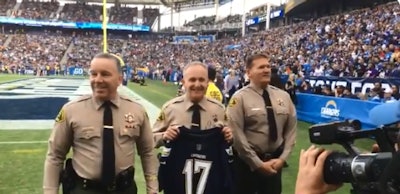 Two reserve deputies with the Los Angeles County Sheriff's Department were honored on Sunday prior to the contest between the Los Angeles Chargers and the Cincinnati Bengals of the NFL.
According to ">KTLA News, Deputies Thomas Henzgen and Michael Rogers were recognized for their heroism in rescuing a 96-year-old woman and her dog just moments before the Woolsey Fire consumed her home.
When Ruth Cook—who is hearing impaired—did not immediately respond to deputies' shouts to evacuate, they forced their way into the motor home and removed her and her 12-year-old dog.
The deputies found Cook and her dog in their home as the flames approached, officials said. But when she didn't respond to their shouts to get out of her home immediately, they forced their way in, got her and her 12-year-old dog Maggie out of the home and loaded them into a neighbor's car to evacuate.