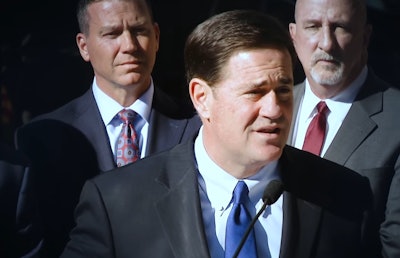 Arizona Gov. Doug Ducey wants to grant pay raises to nearly half of all state employees, with an emphasis on boosting salaries for state law enforcement and corrections officers.
Most of the $74 million allocated in the governor's proposed budget for pay hikes goes to public safety agencies such as corrections officers and highway patrol. Pay raises at other agencies are awarded only to those employees certified by the Arizona Peace Officer Standards and Training Board.
Ducey has proposed a 10-percent pay raises to Department of Public Safety troopers, and a 5-percent pay bump for non-police officers within the agency.
Corrections officers would get a 10-percent pay bump. Officials expect the higher salaries — average pay would increase from $37,000 to $40,700 annually — to help reduce the department's nearly 20 percent turnover rate for corrections officers. Ducey plans to follow through with another 5-percent pay raise in the next budget cycle.
Most other law enforcement employees throughout the state would receive pay raises of about 5 percent, with the exception of those that work within the Department of Juvenile Corrections and Department of Health Services, who would receive 15-percent raises, AZCapitolTimes.com reports.