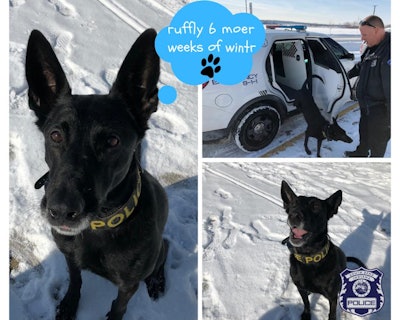 A K-9 with the South Bend (IN) Police Department emerged from a patrol vehicle on Saturday, saw her shadow, and predicted six more weeks of winter.
The department then posted images of the Groundhog Day Ceremony on Facebook, stating, "K-9 Zoey taking a break from her duties to focus on her real passion...analyzing complex weather models."
The department said that she was able to "use a very complex forecasting method known as 'going outside and looking.'"
The department added, "After crunching some numbers and a short break to chew on a tennis ball, Zoey had her prediction. She forecasts winter will hang around a bit longer. Not what we wanted, Zoey. Good thing you're cute!"