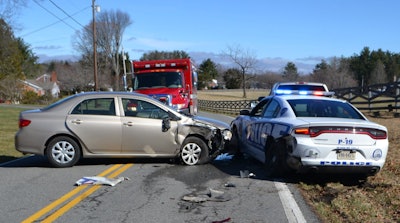 An officer with the Galax (VA) Police Department was reportedly injured when a passing Toyota Camry slammed into his squad car during a traffic stop on Saturday morning.
According to WDBJ-TV, the driver of the Toyota—identified as 48-year-old Angela Snyder—was reportedly travelling at a dangerous rate of speed when her car slammed into the Dodge Charger patrol vehicle.
The officer—identified as Officer D.G. Martin—was transported to a nearby hospital where he was treated for reportedly minor injuries.
The woman has been charged with reckless driving.