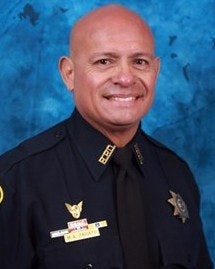 The trial has begun for a man who had reportedly shoplifted at a Target store in Harris County, TX and then led police on a vehicle pursuit that resulted in the death of Officer Marco Antonio Zarate of the Bellaire (TX) Police Department in 2016.
According to the Houston Chronicle, the accused suspect—identified as Dante Moore—was fleeing in a vehicle in July when Officer Zarate engaged in a pursuit.
The 52-year-old motor officer lost control of his motorcycle during the pursuit and slammed into a stationary vehicle.
He was transported to a nearby hospital, where he was pronounced dead.
Moore's attorney—identified as Danny Easterling—said during the proceedings, "We're disputing that my client caused the death… There was a concurrent cause. The officer was speeding at a very high rate of speed through the residential area, and he hit a big dip in the road."
Moore's trial is expected to last at least a week.