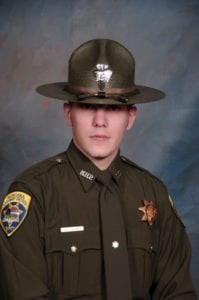 A Montana Highway Patrol Trooper was shot overnight and is in critical condition, according to the Montana Department of Justice. He was flown Friday afternoon to Salt Lake City for treatment, reports the Missoulian.
According to the Montana DOJ, Trooper Wade Palmer was shot near the Evaro Bar and Casino after locating a vehicle matching the description of one wanted following a separate shooting in Missoula earlier Thursday evening. A second responding trooper found Palmer in his patrol vehicle with his seat belt still fastened, reports KTVH.
A suspect in the two overnight shootings was captured after an extensive, hours-long search. The Missoula County Sheriff's Office reports that at approximately 6:15 a.m. the Special Response Team took Johnathan Bertsch into custody without incident.
The Department of Justice's Division of Criminal Investigation and the Missoula Sheriff's Office are investigating.
The Department of Justice says Trooper Palmer has been with the Highway Patrol since 2012. In 2015 he was awarded the Medal of Valor for his response to a multi-vehicle crash involving a mother and young children. The Medal of Valor is MHP's highest honor.
Trooper Palmer is married with two young children.