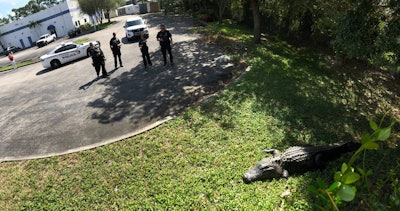 Officers with the Jupiter (FL) Police Department were called along with state wildlife officials to capture an alligator that had been lurking on the property of a local business owner.
According to the Sun Sentinel, the alligator was estimated to weigh 750 pounds and may be around 100 years old.
The department posted pictures of the apprehension to its Facebook page, saying that the animal was "carefully removed without harm from the area and relocated to a safe place."