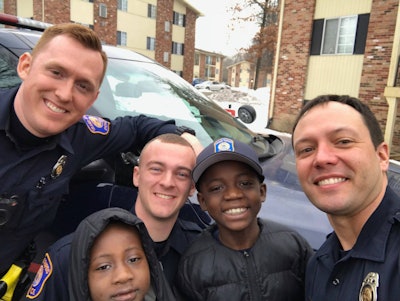 An officer with the Grand Rapids (MI) Police Department recently saw a little boy running after a school bus—the bus failed to stop to take the little guy to school.
The officer asked little Thomas Daniel's mom if he could give him a ride to school, and the woman—who does not own a car—readily accepted.
During the drive, Officer Lynema learned that it was Thomas' ninth birthday, and that because the boy was bullied at school, he feared that nobody would show up to his birthday party that afternoon.
The boy was right. No children were in attendance for the festivities, but Officer Lynema was. And he decided to give the kid a great memory of his birthday.
The next day, Lynema and several of his patrol partners appeared at the home with a Krispy Kreme donut cake and some simple gifts.
The agency said on Facebook, "No kid should get bullied, and no kid should worry if anyone will come to the party. Next year Thomas Daniel, make sure you drop us that invite a little sooner. We wouldn't want to miss it!"
The boy called it his "best birthday ever!"