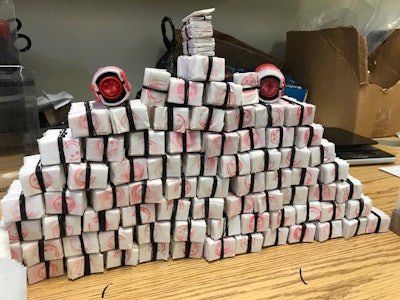 The Westchester County Police Department on Thursday executed five search warrants resulting in the seizure of approximately two kilograms of heroin, $25,000 dollars in cash, and a loaded handgun.
The agency posted a picture of the haul on Facebook, with the caption, "Who's smiling now? It sure isn't the 11 drug dealers who were peddling heroin in Mount Vernon and environs with a red smiley face stamped on their envelopes."
A total of 12 sealed indictments resulted from the investigation. Ten suspects were taken into custody today and the eleventh was already in the county jail.
"One suspect remains at large—for now," the agency said in the social media post.