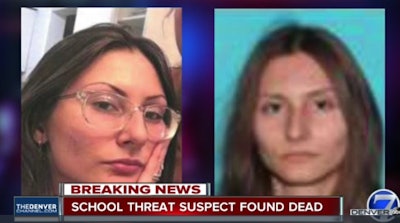 After a massive manhunt along the Front Range and foothills west of Denver, a woman wanted for threats against Littleton, CO's Columbine High School was found dead by apparent suicide Wednesday morning near the base of Mt. Evans.
Sol Pais,18, from Surfside, Fla. had been wanted by authorities since Tuesday morning after allegedly making "credible" threats toward schools in the Denver metro area. Pais was "infatuated" with the Columbine school shooting, authorities said.
Her threats had triggered school closures throughout the area.
The FBI tweeted shortly after discovery of the body that there was no longer a threat to the community. FBI Special Agent in Charge Dean Phillips said at an afternoon news conference that authorities believed Pais died of a self-inflicted gunshot wound but that a medical examiner would confirm if that was the case.
Pais purchased three one-way tickets from Florida to Colorado for April 15, 16 and 17, Phillips said Wednesday. She flew into Denver on Monday, the 15th.
She took a ride-share service directly to a gun store in Littleton and purchased a shotgun and ammunition, according to the FBI. Authorities said she legally purchased the shotgun in a shop not far from Columbine High School, the Denver Channel reports.
Authorities are on high alert in the area because Saturday April 20, 2019, marks the 20th anniversary of the Columbine Massacre. Since the 1999 attack, Columbine and other schools in the area have been the subject of numerous threat by people who idolize the Columbine killers.
At a press conference Wednesday morning, Jefferson County Public Schools and the sheriff's office said they are focusing on getting students back into school Thursday and ensuring upcoming Columbine anniversary events are carried out in a safe manner. Schools on Thursday will run as normal, but will have extra security, said JeffCo Public Schools Superintendent Jason Glass. Staff had already started to work on a plan for Thursday if Pais wasn't located.