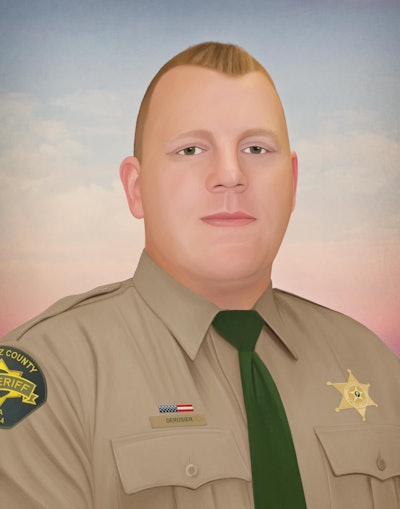 A police officer with the Philadelphia Police Department spends some of his time off-duty painting portraits of officers killed in the line of duty.
The most recent piece of art produced by Jonny Castro is of Deputy Justin DeRosier of the Cowlitz County (WA) Sheriff's Office, who was shot and killed after responding to investigate reports of a disabled motor home.
According to NBC News, Castro—who is also the forensic composite artist for Philadelphia PD—paints portraits of officers killed in the line of duty for their families and friends of the fallen.
Castro posted an image of his latest piece of artwork on his Facebook page, saying, "This past weekend, Deputy Justin DeRosier pulled up to a disabled motor home that was partially blocking a roadway in Kalama, Washington. What should've been a routine vehicle investigation, ended up with a suspect inside the RV opening fire on the Deputy.
"Justin managed to key up his radio and notify dispatch that he was being shot at. Responding units found Deputy DeRosier unresponsive and critically wounded. The officers immediately began lifesaving efforts but Justin passed away at the hospital a short time later.
"After an intense manhunt, the armed suspect was located the following day and killed. Deputy DeRosier was a 6-year veteran of law enforcement and had served the citizens of Cowlitz County for the past 3 years. He's the first and only officer to be killed in the line of duty in the department's 165 year history. Justin leaves behind a wife and a 5-month old daughter. He was 29 years old."