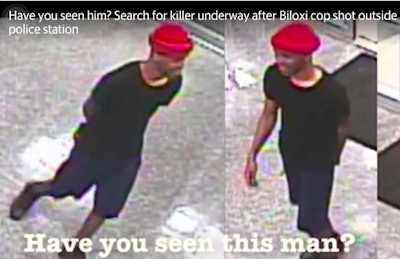 Mississippi law enforcement is searching for a man who shot and killed a uniformed Biloxi officer Sunday night outside of a police station.
The officer was shot multiple times in the 10 p.m. attack in the parking lot of the Lopez Quave Public Safety Center on Porter Avenue. The suspect fled.
The identity of the officer has not yet been released, the Sun Herald reports.
The suspect was wearing navy blue shorts, a black T-shirt, red beanie cap and dark high top sneakers with red caps. He is about 5-feet 7-inches to 5-feet 10-inches tall, officials said.