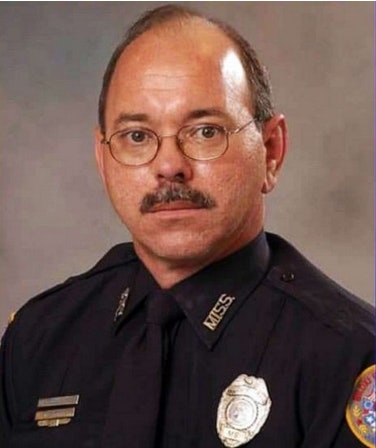 The Biloxi Police Department have identified the officer murdered outside its police headquarters building as Officer Robert McKeithen, a 24-year veteran of the department.
According to WLOX-TV, McKeithen was planning on retiring at the end of the year.
McKeithen was on duty and in full uniform in the parking lot of the Lopez Quave Public Safety Center when a man approached him and shot him multiple times.
McKeithen was transported to a nearby hospital where he succumbed to his injuries.
The gunman remains at large. Mississippi Coast Crime Stoppers is offering a $5,000 reward for information leading to an arrest.
Biloxi Police Chief John Miller said at a news conference on Monday, "The animal that did this is still on the run. and we're going to do everything within our power to bring him to justice for Robert and his family and for the men and women in the police department and for the citizens of Biloxi."