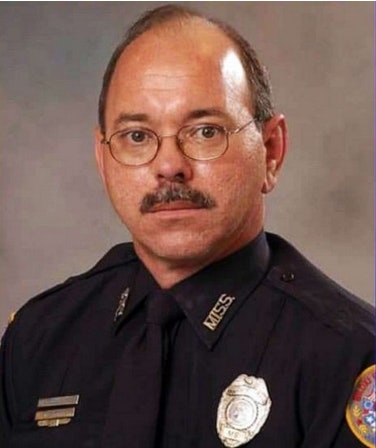 A Biloxi, MS, teen accused in the killing of Patrolman Robert McKeithen snuck up from behind and shot the officer several times in the back, according to criminal court records filed in the case.
Afterward, 19-year-old Darian Atkinson ran north through the parking lot of the Lopez Quave Public Safety Center and disappeared, according to video footage of the incident.
Atkinson has been arrested on a charge of capital murder in the killing of McKeithen, 57, on Sunday night outside the Lopez Quave Public Safety Center. McKeithen was standing near his police SUV when he was shot, reports the Sun Herald.
Darian Atkinson had gone into the Biloxi police station prior to the fatal shooting and had a smile on his face as he headed back out the front door.
Police said McKeithen was ambushed and killed.
Atkinson is being held without bond.
His brother, 21-year-old Davian Atkinson, was arrested on a charge of accessory after the fact to capital murder, a crime that carries a maximum sentence of 20 years in prison.
According to authorities, Davian Atkinson gave his brother a ride after the shooting and allowed him to use his cellphone to make calls in order to avoid capture.
Two more men have been arrested in McKeithen's slaying, reports WLOX.
Dalentez Brice, 20, and Joshua Kovach, 21, are each charged with accessory after the fact in the capital murder case. Brice and Kovach were arrested Wednesday afternoon, said Harrison County Sheriff Troy Peterson.
Both men were being held in the Harrison County Jail without bond pending an initial appearance before the judge.