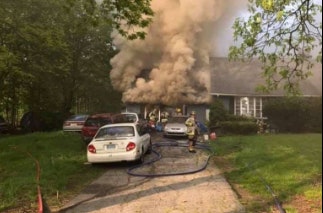 An officer with the Shelton (CT) Police Department has been credited with saving the lives of a couple whose home suffered extensive damage from an early-morning fire.
According to the Connecticut Post, Officer Michael Kichar was on his way in to work early Sunday morning when he observed smoke coming from a residence.
Kichar knocked repeatedly on the door until the couple were awakened and came to the door.
They exited the dwelling as firefighters began to respond.
No one was injured, but the home is no longer livable.