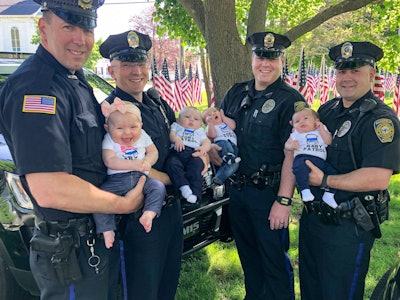 Four officers with the Mansfield (MA) Police Department have welcomed new babies into their families since December.
The agency posted on Facebook, "John, Chris, Derek, and Tony each welcomed new additions since December! That's four babies in four months! It's the kind of thing that makes you want to order matching onsies and take photos. Congratulations to John and Chris, our first-time dads, and to Derek and Tony who welcomed new members to their beautiful families."
Citizens added myriad comments to the post congratulating the officers on their new arrivals.
One person said, "Little Blessings!"
Another said, "Congrats gentlemen. Stay safe."