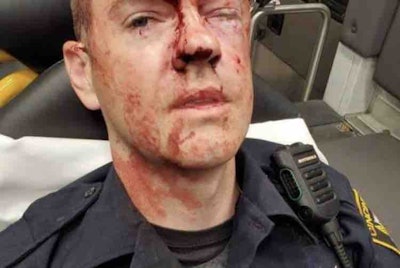 A Cincinnati officer was badly beaten last week while attempting to make a disorderly conduct arrest at an area YMCA.
"The officer would have been justified if he had used deadly force," Cincinnati Fraternal Order of Police President Dan Hils told WLWT, releasing a photo of the officer.
The photo shows a bloodied officer – one eye swollen shut.
Investigators say Durrell Nichols is the man responsible. He's behind bars on suspicion of resisting arrest, assaulting an officer, disorderly conduct and criminal trespassing. Nichols reportedly weighs more than 300 pounds.
"Seven or eight officers showed up, and it took about seven or eight officers to get this guy subdued," Capt. Paul Broxterman said.
A GoFundme account has been set up to help the officer during his recovery.