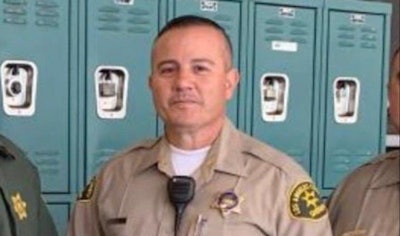 Surrounded by family and fellow law enforcement officers, Los Angeles County Sheriff's Deputy Joseph Solano, 50, succumbed to his injuries Wednesday after being shot off duty in a seemingly random attack Monday.
Solano had been in grave condition since Monday night, when a Utah man shot him in the head at an Alhambra fast-food restaurant for no apparent reason, investigators said. The brutal attack had left Solano on life support, unable to breathe on his own, reports the Los Angeles Times.
"He confronted a threat not knowing what it was, and in a split second, he lost his life, and that's what it is in law enforcement," said Sheriff Alex Villanueva at a news conference Wednesday, at times on the verge of tears. "On a good day, we can do heroic things, and save lives, and avoid death. And other times something as innocent as going to a fast-food restaurant can be end of the watch for our hero, Deputy Solano."
Solano — who left behind a son and a longtime girlfriend and was the sole provider for his mother — was described by family members as a caring soul who was getting an oil change for his mother's car when he stopped at the Jack in the Box.
Villanueva said the deputy was alerted in the restaurant that someone was following him, prompting Solano to confront the gunman just before the shot was fired.