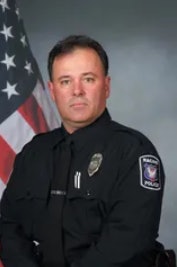 The man suspected of murdering an off-duty officer with the Racine (WI) Police Department has been arrested one day after the slain law enforcer was laid to rest.
According to ABC News, the man suspected of shooting and killing 24-year veteran Officer John Hetland during an armed robbery at a bar on June 17 was apprehended in Milwaukee on Thursday.
---
Related: Off-Duty Wisconsin Officer Killed During Armed Robbery at Bar
---
The suspect has been identified as 26-year-old Dalquavis Ward. He is facing three charges including first-degree intentional homicide, armed robbery, and possession of a firearm by a felon, reports CBS 58.
When Ward was taken into custody, he was placed in the handcuffs once carried by Officer Hetland.