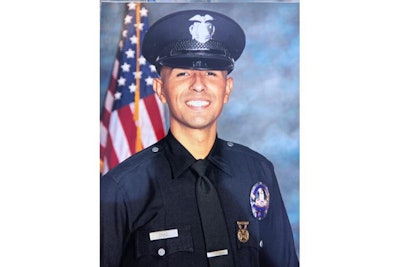 Three men have been arrested in connection with the fatal shooting of an off-duty Los Angeles police officer Saturday morning at a taco stand in Lincoln Heights, authorities said Friday.
The individuals, who have not been named, were taken into custody in the Southern California cities of Riverside, Murrieta, and Temecula, said LAPD Assistant Chief Bea Girmala. Girmala said the suspects are in their 20s but declined to provide additional details about their arrests.
"These are the folks we believe are responsible for the senseless murder of Juan Diaz," she said. "Everything is fresh. Interviews have not taken place."
Related: Off-Duty LAPD Officer Murdered in Suspected Gang-Related Shooting
Authorities have been looking for the gunman all week. Officer Juan Jose Diaz was out with friends shortly after midnight Saturday when he confronted someone tagging a wall. Police said Diaz went to his car and a gunman opened fire, killing him, reports the Los Angeles Times.
The gunman claimed allegiance to the Avenues, a once-powerful gang that has lost its grip on the neighborhood in the last decade, and said Diaz and his group were in its territory, a law enforcement source said.