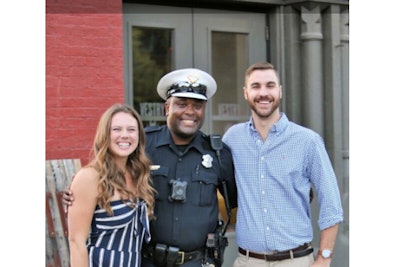 An officer with the Cincinnati Police Department is being lauded for his assistance in a young couple's wedding proposal over the weekend.
The agency posted to its Facebook page the story the mother of the bride-to-be shared with them.
Dianne Ruwe Shipley wrote, "I would like to compliment the actions of Officer Darryl Tyus. I was near Washington Park on Saturday, August 3, to celebrate my daughter's engagement. Officer Tyus was on duty in Washington Park. He noticed our (covert) photography and became aware of the situation. Officer Tyus asked what the couple looked like and began subtly diverting individuals away from the predetermined proposal location."
The post continued, "After the proposal, Darryl offered to take a photograph of the couple with the parents. He then proceeded to escort the couple through the park and across the street to the location where family and friends were waiting. He then quickly returned to the park. Darryl went out of his way to enhance an already precious evening."
Shipley concluded, "Thank you to Officer Tyus, and all the law enforcement professionals of the Cincinnati Police Department, for the under-acknowledged service they provide."