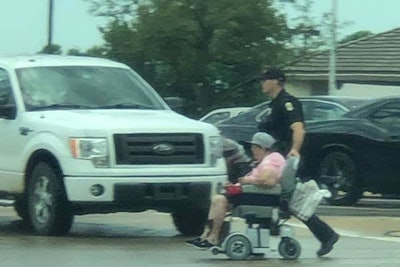 An officer with the Wichita (KS) Police Department was seen helping a woman in a wheelchair across a busy intersection over the weekend. Photos of the act of kindness posted to social media quickly went viral.
Wichita Police Chief Gordon Ramsay said on Facebook, "Received this photo today from a passerby - in it Officer Tristan Fellows ran to help a lady in a wheelchair cross the busy intersection of Central and Maize. We appreciate your compassion and helpfulness Officer Fellows!
Citizen response to the post has been overwhelmingly positive.
One individual said, "Your thoughtfulness and compassion only proves there is a heart beating behind the badge! You Sir are a True Hero In Blue!! Please Stay Safe!"
Another person posted, "Thank you for your service, thoughtfulness and compassion. You are making a difference."
Another said, "God bless you all and keep His hand on you as you perform your duties. You are truly appreciated."