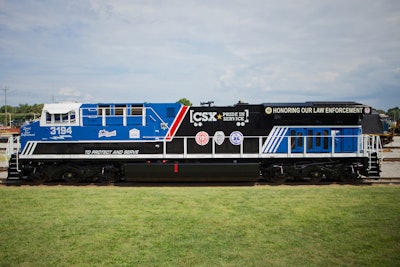 The CSX Transportation Company unveiled on social media images of a locomotive newly painted to honor law enforcement officers across the country.
The company said on Facebook, "Today we are proud to reveal the Spirit of Our Law Enforcement commemorative locomotive."
The locomotive—CSX 3194—was painted at the company's Huntington, WV, shop and renamed to honor our nation's police officers who dedicate their lives to serve and protect communities across our network.
"CSX is proud of the employee craftsmanship involved in transforming this locomotive into a special commemorative engine," Ed Harris, executive vice president of operations, said on the company's website. "This is a moving tribute to the men and women who serve us every day and aligns with CSX's goal to connect military service members, first responders, and their families to the resources and support they need."
When not actively moving customers' freight, the locomotives are made available for special events along the CSX system.