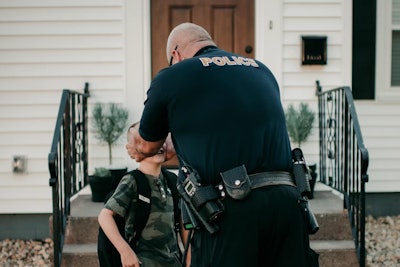 An officer with the Eldridge (IA) Police Department visited the home of a woman who turned to police because her son was afraid to go to sleep in the room of the home they just moved into.
According to KWQC-TV, the woman—Amanda Williams—went with her son to the local police department to allow the six-year-old boy to talk with officers in an effort to reassure him of the home's safety.
The boy was reportedly accustomed to sharing a room with his 15-year-old sister at their previous residence, but upon moving into a larger house was afraid of being alone at bedtime.
Williams said on Facebook that she'd "tried everything under the sun" to get the boy to sleep and visited the police department because the boy understands that police can help him.
Following the in-station meeting, Officer Bruce Schwartz came to the home, performed an extensive inspection, and reported to the boy that there were no monsters present.
Officer Schwartz returned the following day—the boy's first day of school—to follow-up.