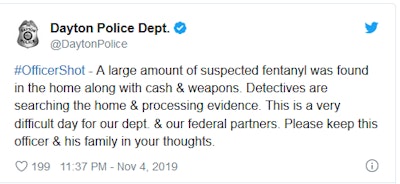 A Dayton, OH, police detective is in critical condition after he was shot twice Monday night while serving a warrant with a Drug Enforcement Agency task force.
Dayton Police have identified the critically wounded detective as Jorge DelRio, a 30-year veteran of our department who has served with the DEA task force since 2000.
The shooting occurred about 7 p.m. at a Dayton residence, the Dayton Daily News reports.
"We're serving a warrant with the DEA. We need a medic," an officer told a 911 dispatcher.
#OfficerShot - A large amount of suspected fentanyl was found in the home along with cash & weapons. Detectives are searching the home & processing evidence. This is a very difficult day for our dept. & our federal partners. Please keep this officer & his family in your thoughts.

— Dayton Police Dept. (@DaytonPolice) November 5, 2019
Fellow officers loaded the wounded detective into a police cruiser and drove to Grandview Medical Center. Dayton Police Chief Richard Biehl told local media that Detective DelRio is on "advanced life support."
Four suspects in the house were taken into custody, and a large amount of fentanyl and cash was recovered at the address, Biehl said. Multiple weapons were also found at the home, according to a Dayton police statement.
The main shooter in the investigation is Nathan Scott Goddard Jr., said David DeVillers, U.S. attorney for the Southern District of Ohio. Goddard, 39, is one of the three suspects in custody. Charges against the suspects have not been released, the Dayton Daily News reports.
Del Rio was going down stairs inside a home in the 1400 block of Ruskin Road when a suspect fired at the detective, the Dayton Daily News reports.