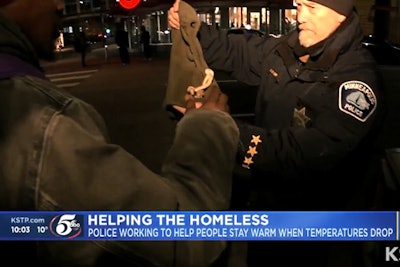 A handful of officers with the Minneapolis Police Department are now equipped with warm hats and gloves to give to homeless individuals at serious risk of exposure during the approaching winter months.
According to ABC News, the department has formed a "homeless and vulnerable population unit" that patrols areas where homeless individuals are typically found with the mission of providing assistance as well as information about where they can seek shelter.
According to St. Stephen's Human Services, there are over 700 people living on the streets in Hennepin County, many of them in Minneapolis
The unit does not have a department budget, so it relies on private donations.