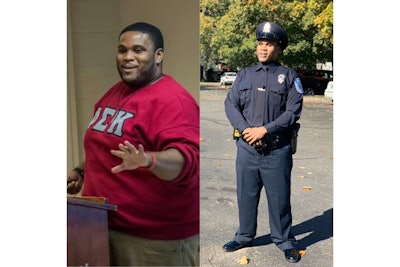 One of the graduates of the 120th Basic Recruit Class for the Richmond (VA) Police Department overcame a personal challenge in addition to the rigors of the training and learning he underwent alongside his classmates. He dropped nearly 200 pounds.
The agency posted his story—along with "before" and "after" pictures—on their Facebook page under the heading "Monday Motivation."
The agency said, "The photo on the left was taken in late 2015/early 2016 and the photo on the right was taken last Friday. Officer Lyle says at his heaviest, he weighed a little over 400lbs."
Lyle said in the post, "I knew I wanted to do something in Law Enforcement, but at that moment there was no way I would have been able to achieve that dream at my current weight. If I wanted to work in this field, I had to keep working on my health and fitness."
When he began doing CrossFit, he had a 54-inch waistline. Now he can go to a clothing store and buy his pants "right off the rack."
The agency said in its post, "Officer Lyle says being part of the 120th Basic Recruit Class has given him new insight into the meaning of brotherhood and he felt supported in everything that they did."
The post concluded, "Congratulations to Officer Lyle! We are proud to have him in the RPD family."