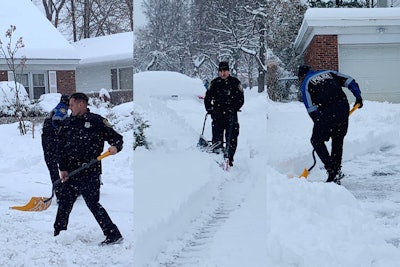 Three officers with the Albany (NY) Police Department came to the aid of a 99-year-old woman who called for help in clearing nearly 18 inches of newly fallen snow from her driveway so she could leave her home on Monday morning.
The spontaneous act of kindness from the three officers was captured in photographs taken by Sergeant Norah Harrington, who posted the images to the agency's Facebook page.
The post read, in part, "Without hesitation, Police Officers William Pierce, Christopher Stiles and John Schueler all drove to the woman's home to assist her and worked together to clear more than a foot of snow from her sidewalk and driveway."