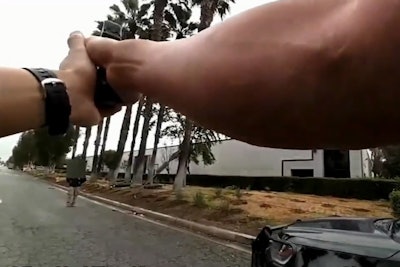 The Fontana (CA) Police Department released video this week showing its officers de-escalating a situation in which a man may have been trying to commit suicide-by-cop in late November.
According to the debrief video delivered by Fontana Police Chief William "Billy" Green, Officer Josh McMillian was the first officer to arrive to the scene of a call of a man with gun.
McMillian exited his patrol vehicle and began to engage the subject who was reportedly pacing up and down a section of a street.
During the incident, the subject refused to remove his hands from his pockets and said several times, "Shoot me! Shoot me! Just shoot me! Please shoot me! Shoot me!"
Officer McMillian replied, "I do not want to shoot you."
"Please, just please. Please… please. Please shoot me," the man repeated.
The exchange continued with Officer McMillian saying, "Come on. I do not want to shoot you. Pull your hand out of your pocket, bro. Come on! Don't do this man!"
After a time, McMillian said, "You're going through some s#it, let me help you!"
The encounter continued for several more minutes until other units arrived.
The distraught man was peacefully taken into custody, and it was discovered that he didn't possess a gun.