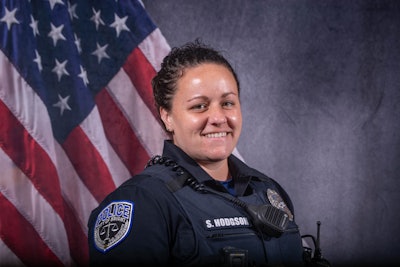 According to the Bryant (AR) Police Department, an officer who was shot and wounded by a reportedly suicidal subject outside of an apartment complex has been released from the hospital.
Officer Samantha Hodgson was called to the Greens at Hurricane apartment complex around 8 p.m. Monday to a person who was reportedly suicidal. When Hodgson and other officers confronted 24-year-old Austin Swindle, police say he shot Hodgson, reports KATV.
---
Related: Arkansas Officer Shot, Wounded by Reportedly Suicidal Subject
---
According to a report from Arkansas State Police, Swindle reportedly refused to drop the gun and pointed it at police. Shortly after, he was shot and killed by another officer.
Hodgson had to be airlifted to a local hospital for treatment, reports KATV.
One of Hodgson's co-workers said in an interview that she was doing the job she loves when she was nearly killed.
"She is one of those officers born to do this job," Sgt. Todd Crowson, spokesperson for the Bryant Police Department said.
Crowson says Hodgson has been with the department for just over a year, but she's made her mark on the community.
A PayPal account has been set up for donations to help Officer Hodgson. As of Friday, $10,500 had been raised.