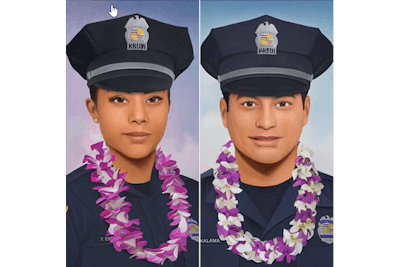 A Philadelphia officer has created portraits to memorialize the two Honolulu PD officers killed Sunday responding to a stabbing call.
As an artist, Officer Jonny Castro of the Philadelphia Police Department specializes in forensic composite portraits of officers killed in the line of duty.
After hearing about the incident at Diamond Head, Castro created portraits of Officers Tiffany Enriquez and Kaulike Kalama. In the pieces, Enriquez and Kalama are shown donning lei over their HPD uniforms, reports Hawaii News Now.
---
Related: 2 Honolulu PD Officers Killed Responding to Stabbing Call Identified
---
The bio on Castro's Facebook page says, "The reason behind painting portraits of these fallen heroes is to try and share who these officers were in life before they were taken from us." It adds that Castro delivers prints to families and men and women who have worked with the heroes.